Are you looking for a fresh and exciting way to advertise? Would you like to take advantage of an advertising avenue that will expose your business or product to a captive audience of 25,000 consumers per year? If so, then our Partners Program will interest you.
It has been proven through many surveys and tests that the most penetrating advertising occurs when people are targeted in a low stress, non-threatening atmosphere. There is no place that fits that description better than a golf course, and there is no golf course that exemplifies that better than Oak Marsh.
Oak Marsh is proud to offer you a unique program to market your product or service to each and every golfer in a professional manner that you will excite you.
Here's how: Our 72 golf cars are equipped with the state of the art Visage Global Positioning System (GPS) color monitor that provides the following: 1) yardage distance to the pin, 2) advice on how to play the hole and 3) a close up of the green layout. Our GPS Ad Partners Program will put your ad message on the color monitor. Its size will fill approximately 1/6th of the display screen. Your ad will appear on display screen when the golf car arrives at the tee box of the hole you select and will stay there until the golf car arrives at the next tee box.
1/6 Size with Hole Layout
---
Pop-Up Ad Display on Monitor
What should excite you is your ad exposure time on the screen: 10 to 20 minutes, depending on the hole length and pace of play on a given day.
How often does your ad message receive that kind of exposure in other media and without competing ad messages? What's more, as a GPS AD Partner you will also be recognized on our www.oakmarshgolf.com website.
Use this new and exciting advertising form to brand, generate sales or store traffic. For pricing and specifications, view and download the Acrobat PDF Document by clicking here.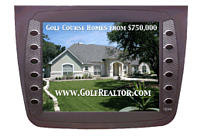 Pop-Up Ad Display on Monitor